How to Setup L2TP VPN on Windows Phone
March 9, 2015, 12:58 p.m.
Microsoft Windows Phone 8.1 has become one of the leading operating systems for smartphones and tablet computers. There is a wide array of devices that run Windows Phone 8.1 including HTC, Huawei and Samsung smartphones. b.VPN client for Windows Phone is not available yet. However, if you are a paid user and you would like to use b.VPN service on Windows Phone, you can manually configure L2TP VPN connection on Windows Phone following the steps below. You will be granted the exact same features of using VPN client on Windows Phone. Notice that you can use b.VPN client on another device while you are connected to b.VPN servers on Windows Phone via L2TP.
Important Notes:
*These steps are only applicable to Windows Phone 8.1.
*Return to your profile page to view a list of available L2TP VPN servers and the matching "Shared Key".
*Your username and password are your registered e-mail address and password on b.VPN.
*You have to be a paid user in order to use L2TP VPN connection.
Now follow these steps to setup L2TP VPN on Windows Phone
Tap on "Settings".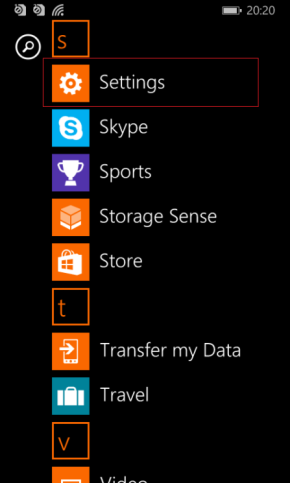 Proceed to "VPN".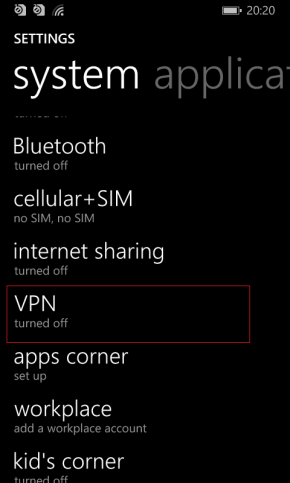 Tap on (+) icon.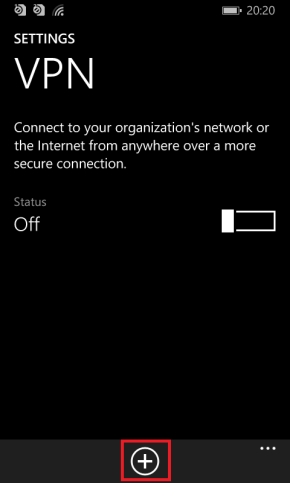 You will be required to fill these fields:
Server name or IP address: (b.VPN server for example: ca.usa.bvpn.com).
Type: tap to open the dropdown menu and select "L2TP with IPSec".
Connect using: tap on "Choose an item" then select "user name + password + preshared key".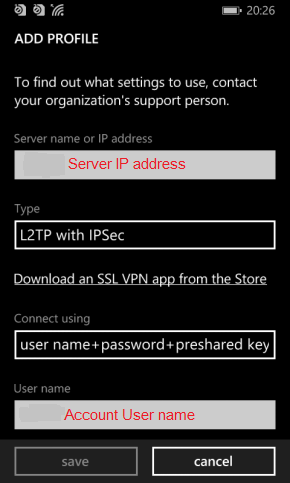 User name: insert your b.VPN account username.
Password: insert your b.VPN account password.
Preshared Key: type "oorg5y8ajugiwgc".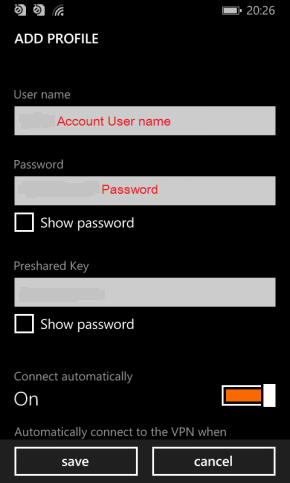 Turn "On" these buttons:
Connect automatically.
Send all traffic.
Now tap on "Save".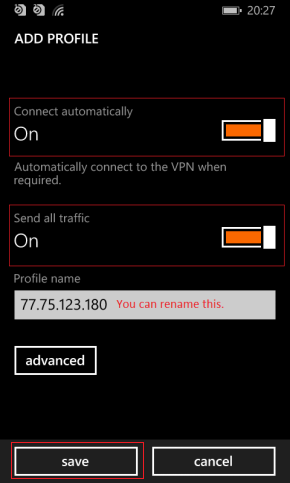 Now you have successfully configured L2TP VPN connection on Windows Phone 8.1.