Best USA VPN
Get some peace of mind and unblock the best websites and services in America without limits or restrictions with our US VPN. Say goodbye to geo-restrictions, hackers, spammers and incessant monitoring from the NSA and surf the web in complete anonymity with the best VPN service. Enjoy unlimited live streaming in HD of all the best services, including: Netflix, Hulu, HBO, Pandora, NFL, Fox, MTV, and so much more without buffering or extra charges.
How USA VPN Works
Our USA VPN operates by cloaking your real IP address and replacing it with a US IP, e.g.: New York, in order to trick ISPs into thinking that you are browsing from the US. You can, therefore, unblock any website in the US in an instant.
What's more, by hiding your actual geographical location, you become completely off grid and anonymous to all ISPs in the world. This means that your online activities, such as: browsing, messaging, VoIP sessions, emails, and so on, cannot be monitored or traced by the government or any other third party. In addition, USA VPN uses sophisticated compression techniques to speed up your internet connection. It also encrypts your data traffic before it is sent out on the internet, hence, giving you full data protection and optimal security against cyber criminals and data snoopers like: hackers and spammers. This means that you can stream live videos in HD, surf the web in utmost security and anonymity and carry out financial transactions as well as getting unlimited access to all restricted websites and services in the US and everywhere else.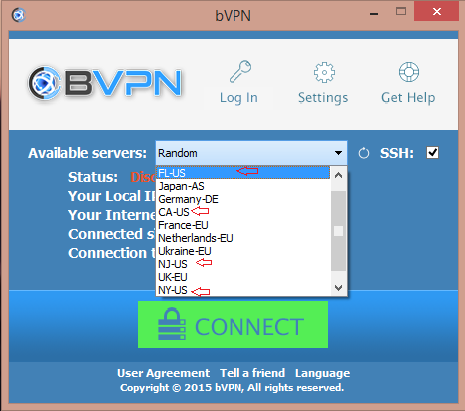 Features of the best USA VPN
Super sleek and user-friendly VPN client that requires only one click to be installed on your device.
Full compatibility with all operating systems including: Windows, Mac OS, Linux, Android and iOS. Our USA VPN runs on PCs, Laptops, gaming consoles, mobile phones and tablets
Several high-level encryption protocols, including: OpenVPN, L2TP, OpenVPN/SSH, PPTP
OpenVPN (256-bit encryption): an advanced open-source encryption protocol that is considered the best and most secure. For extra security, USA VPN offers a double tunneling encryption "OpenVPN over SSH" with just one click of a mouse. Unfortunately, it isn't supported by iOS.
L2TP (256-bit encryption): a highly secure encryption protocol ideal for mobile devices, a little more complicated than OpenVPN, for example, but recommended for use on iOS powered devices rather than PPTP.

High speed servers inFlorida, California, New Jersey and New York.
Unlimited bandwidth to enjoy unlimited streaming, browsing and long VoIP session without extra charges.
24/7 live support and remote assistance via TeamViewer to guarantee premium service to all customers.
No logging policy. Your privacy is important to us, that's why when you use USA VPN, your online activities and personal data will not be recorded.
Wi-Fi/Hotspot protection. You can use USA VPN safely on public Wi-Fi networks, such as: hotels, airports, cafe, libraries, etc.
Free trial and money back guarantee.