Click The Button to Download b.VPN for iOS

Apple iOS
iOS is Apple Inc's official operating system for its mobile devices, such as: iPhones, iPods and iPads. It was first launched in 2007 along with the birth of the first iPhone, but it was not until 2010 when it earned its name "iOS".
iOS operates basically like a computer system, but on mobile devices manufactured by Apple Inc. iOS is designed to run faster without consuming too much power.
Unlike other operating systems, such as Android, iOS isn't a flexible platform and doesn't give much room for users to customize and tweak apps. In Addition, all apps and games are filtered and checked by Apple Inc. before they are displayed in the company's digital stores.
iOS comes with a number of already installed applications including Safari, the official browser developed by Apple, and iTunes, the official media and app store; all of which require a free or paid subscriptions.
Why You Need VPN on iOS?
Even though Apple is rigorous about vetting apps, recently iOS has been vulnerable to a lot of major security risks in which apps produced by big companies, such as: Yahoo, Microsoft, Uber, and Citrix were infected. This is due to the fact that the company's current security methods aren't keeping up with the ever-evolving security threats, including: malware and viruses.
On the other hand, a lot of apps, games and media files aren't available in all Apple's stores, and are subjected to regional restrictive laws. This means that not all iOS users will get to have access to all of their favourite content, apps, songs, videos, etc.
For these reasons and more, a virtual private network (VPN) is the best way to stay protected on the internet and to get access to regionally restricted websites and services.
b.VPN for iOS
b.VPN backbone is a VPN application for all mobile phones that run on iOS operating system. Although it is a young provider, b.VPN has established a solid client base in the Middle East (UAE, Saudi Arabia, Oman, Egypt, etc.), Asia (China, Indonesia, Pakistan, Iran, etc.), Turkey and others. Through a massive global network of Tier-1 hosted VPN servers, b.VPN has proven to be a reliable, fast and light VPN service.
In addition to optimally protecting your sensitive data (e.g: username, passwords, credit card information, etc.), b.VPN enables you to bypass even the toughest firewalls and ISPs and get access to any blocked web content no matter where you are located without being detected or tracked. b.VPN also allows you to switch between its list of servers freely, without any additional fees. Moreover, the service offers single-click OpenVPN/SSH feature, several encryption protocols supported by iOS, free trial, money back guarantee, unlimited bandwidth, discounts and coupons, generous pricing plans as well as simultaneous connections, through which users can install the VPN on more than one device.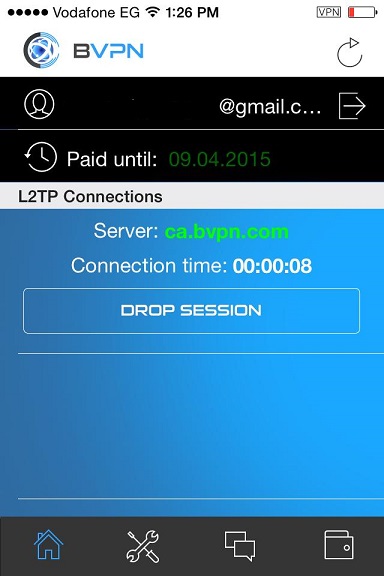 By using b.VPN, all of your personal information, browsing activities, VoIP sessions, emails, messaging and financial transactions will be totally encrypted and shielded from cyber threats, such as: hackers, spammers or any other third party including your government. Further, you will be able to access endless regionally banned web content and services, such as: Facebook, Twitter, Youtube, Netflix, Hulu, HBO, CTV, CW Network, Fox, NBC, ESPN, BBC iPlayer, Pandora, Rara, NFL, CBC, Vimeo, Vudu, Youko, Spotify, etc.
Click here to to download b.VPN for iOS.
How to Use b.VPN on iOS (iPhone or iPad)
The idea behind iOS is simple, but extremely tech-sophisticated, by changing your real IP address and replacing it with a different one chosen from an extensive global network of servers, then transferring your personal data traffic through encrypted tunnels within the internet, you will become completely anonymous and protected from security threats and your connection will not be detected by firewalls, including the Great Firewall of China, or be traced in any way possible.
b.VPN offers several secure encrypted tunneling protocols, such as:
OpenVPN (256-bit encryption): an advanced open-source encryption protocol that is considered as the best and most secure. For extra security, b.VPN offers a double tunneling encryption "OpenVPN over SSH" with just one click of a mouse. Unfortunately, it isn't supported by iOS.
L2TP (256-bit encryption): a highly secure and ideal encryption protocol for mobile devices, but a little more complicated than OpenVPN, for example, but a lot more recommended to be used on iOS powered devices than PPTP.
Click here to learn how you can use L2TP on iOS.
PPTP (128-bit encryption): supported by iOS and other platforms, PPTP is a basic encryption protocol that offers average protection and security on the internet. This protocol isn't recommended to be used in China or any other country that uses DPI (Deep Packet Data Inspection) as it it can be easily detected and blocked.
SSTP (2048-bit encryption): a tunneling protocol that uses SSL VPN, which is accessible via HTTPS and it uses 2048 bit protection. That is why it is considered to be the most secured method/ unfortunately, it is NOT supported by iOS.
It is important to put in mind that b.VPN relies on OpenVPN as an encryption protocol; therefore, it is only available through L2TP for iOS devices.